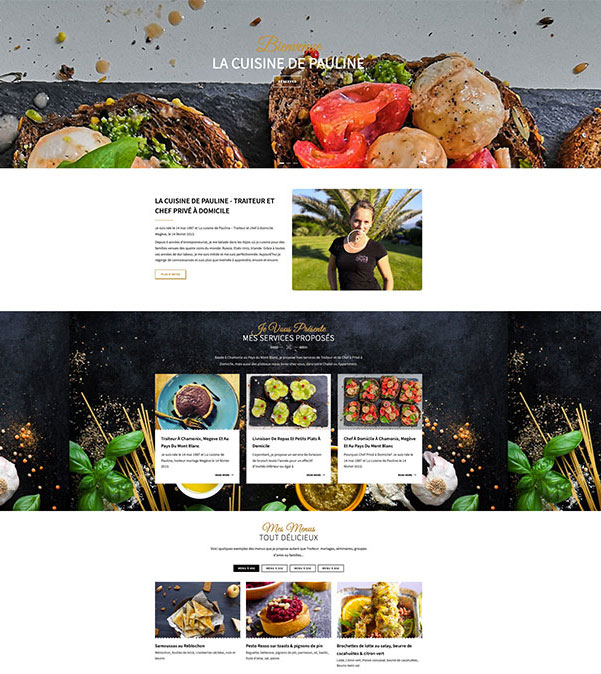 Project Description
La Cuisine de Pauline - Chef Privé à Domicile et Traiteur
Pauline est née le 14 mai 1987 et La cuisine de Pauline – Traiteur et chef à domicile Megève, le 14 février 2013.
Depuis 6 années d'entrepreneuriat, je me balade dans les Alpes où je cuisine pour des familles venues des quatre coins du monde: Russie, Etats-Unis, Irlande. Grâce à toutes ces années de dur labeur, je me suis initiée et me suis perfectionnée. Aujourd'hui je regorge de connaissances et suis plus que motivée à apprendre, encore et encore.
Client La Cuisine de Pauline
Publish on 19 April, 2020
Tags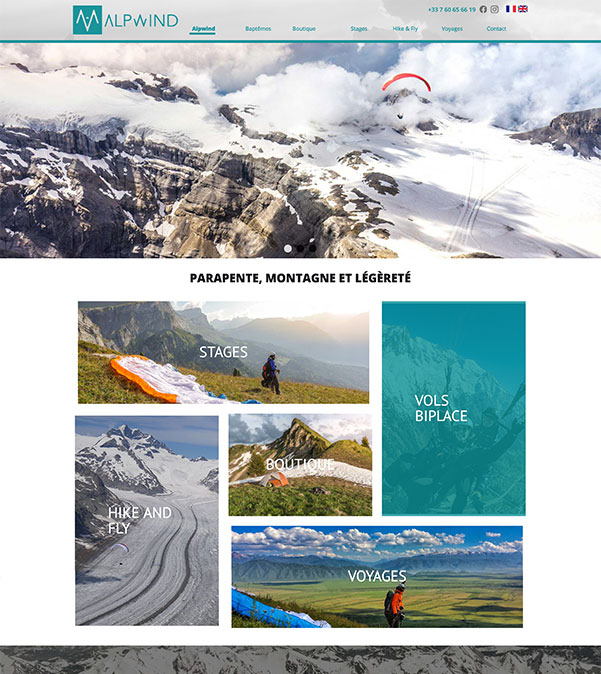 Project Description
AlpWind est votre école de parapente sur Annecy et Chamonix, deux grands sites du vol libre dans les Alpes. Spécialistes du parapente en altitude et du vol montagne: stage initiation monosurface, hike and fly, vol bivouac... nous explorons tout ce qui touche à la légèreté. Bien entendu nous ne pouvions vous priver de notre connaissance du vol en thermique et du cross dans ces Alpes extraordinaires.
Client Alpwind
Publish on 02 May, 2019
Tags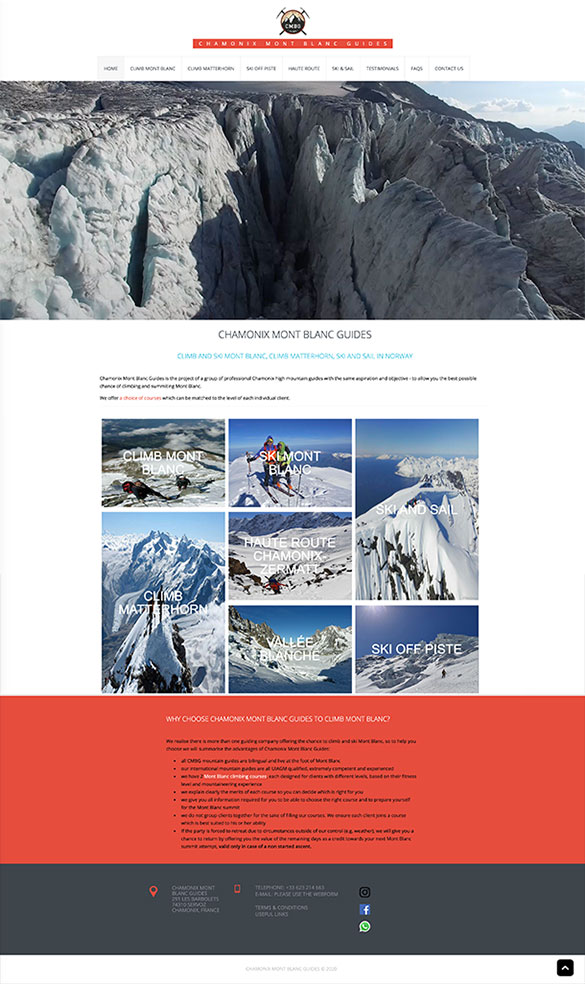 Project Description
Climb and Ski Mont Blanc, Climb Matterhorn, Ski and Sail in Norway
Chamonix Mont Blanc Guides is the project of a group of professional Chamonix high mountain guides with the same aspiration and objective - to allow you the best possible chance of climbing and summiting Mont Blanc.
We offer a choice of courses which can be matched to the level of each individual client.
Client Chamonix Mont Blanc Guides
Publish on 02 April, 2019
Tags
Project Description
De Paoli Charpente, Monsieur Guillaume de Paoli, entrepreneur individuel est en activité depuis 17 ans.
Installée aux Les Houches, Vallée de Chamonix Mont Blanc, Haute Savoie, elle est spécialisée dans le secteur d'activité des travaux de charpente
CxNx De Paoli Charpente
Publish on 02 October, 2018
Tags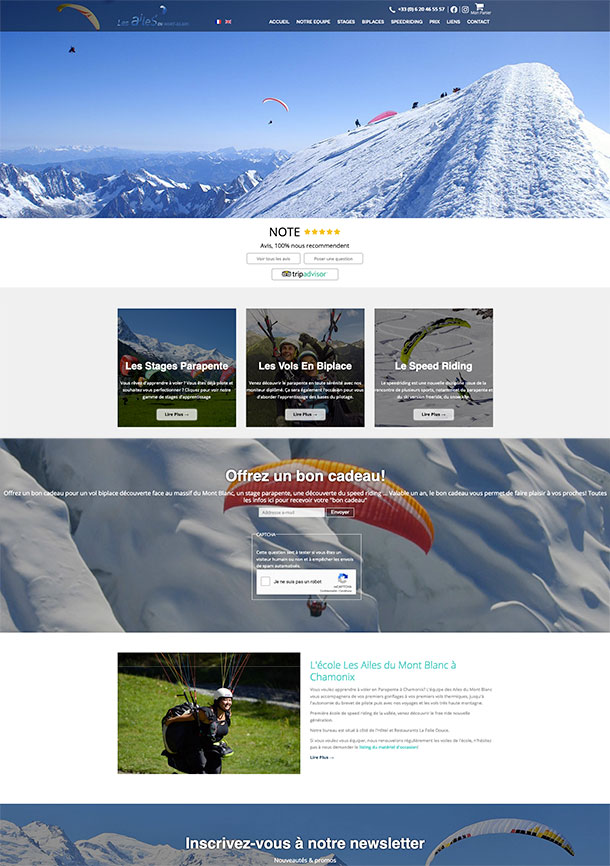 Project Description
L'école Les Ailes du Mont Blanc à Chamonix. Vous voulez apprendre à voler en Parapente à Chamonix? L'équipe des Ailes du Mont Blanc vous accompagnera de vos premiers gonflages à vos premiers vols thermiques, jusqu'à l'autonomie du brevet de pilote puis avec nos voyages et les vols très haute montagne.
Client Themeforest
Publish on 02 August, 2016
Tags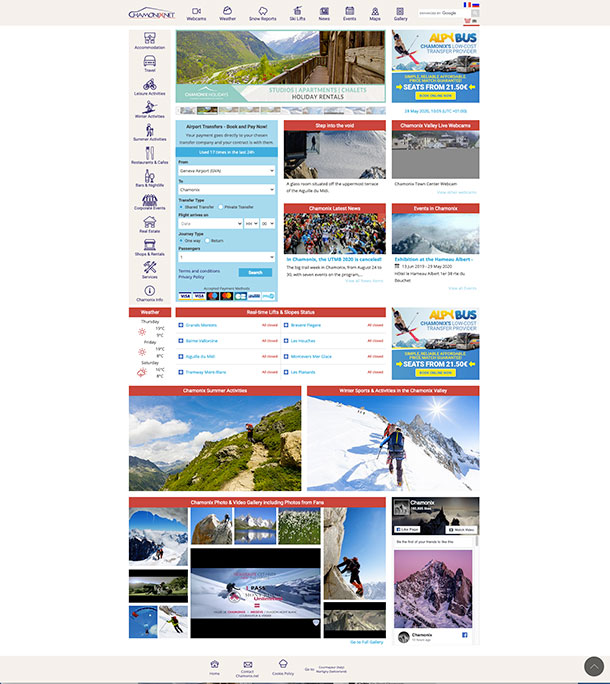 Project Description
Chamonix.net is administered by SARL Chamonix Networks. 396, rue du Lyret, 74400 Chamonix, France, Tel: +33 (0)4 50 55 82 69
Come visit us in our office near the Aiguille du Midi lift station!
Directions from the lift station:
from the Avenue de l'Aiguille du Midi facing the lift station, turn left onto the Rue du Lyret
about 50m on your left, you will see the sign "Chalet des Sapins, 396, Gate code: 1924 or 2512
our office is on the ground floor of the chalet, set back from the road
CxNx Chamonix Networks
Publish on 02 August, 2016
Tags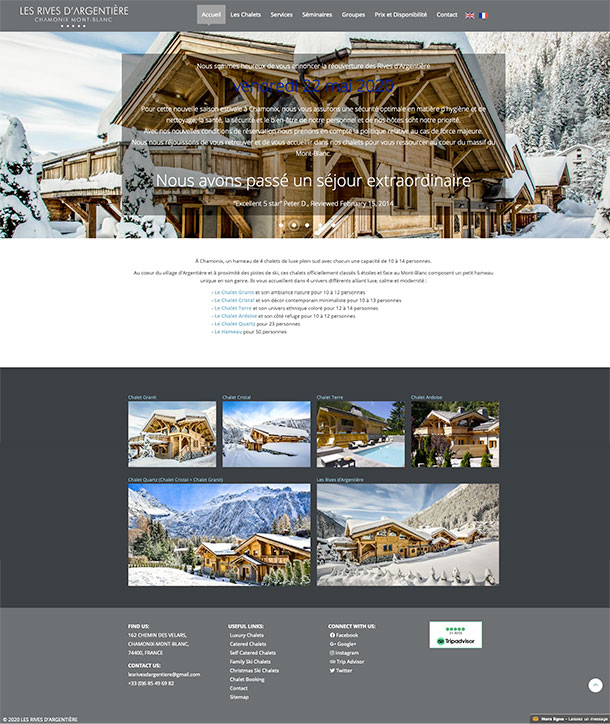 Project Description
Welcome to the Chamonix Ski Chalets Les Rives d'Argentière!
Do you dream of waking up and stepping out on the fresh powder, ready to enjoy? Then we think you'll love the stunning New Hamlet of Five Star Luxury Ski Chalets in Chamonix. These Chamonix ski chalets are here to provide you with the perfect holiday accommodation in Mont Blanc. Whether you're looking for the perfect Chamonix chalet for your next family holiday or a romantic getaway, one thing's for sure - once you arrive, you wouldn't want to be anywhere else.
CxNx Les Rives d'Argentière
Publish on 02 August, 2015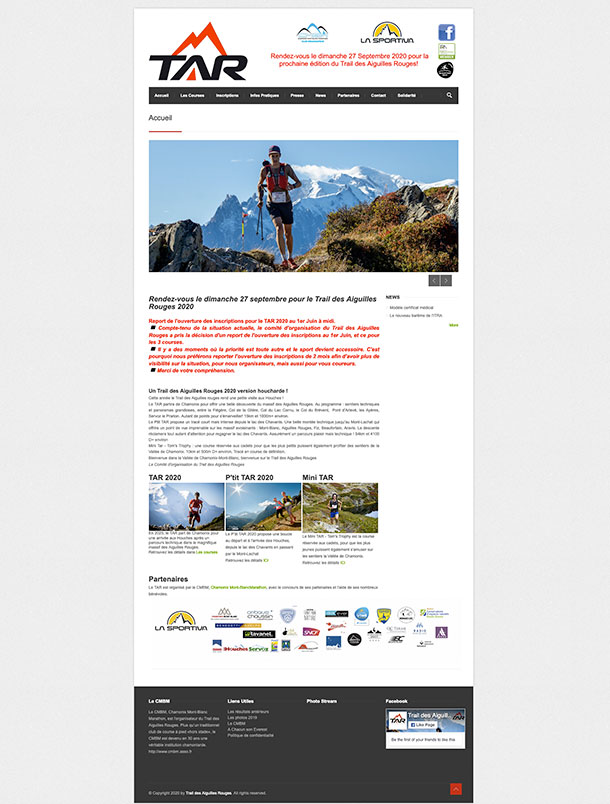 Project Description
Cette année le Trail des Aiguilles rouges rend une petite visite aux Houches ! Le TAR partira de Chamonix pour offrir une belle découverte du massif des Aiguilles Rouges. Au programme : sentiers techniques et panoramas grandioses, entre la Flégère, Col de la Glière, Col du Lac Cornu, le Col du Brévent, Pont d'Arlevé, les Ayères, Servoz le Prarion. Autant de points pour s'émerveiller! 15km et 1000m+ environ.
CxNx Trail des Aiguilles Rouges
Publish on 02 August, 2015
Tags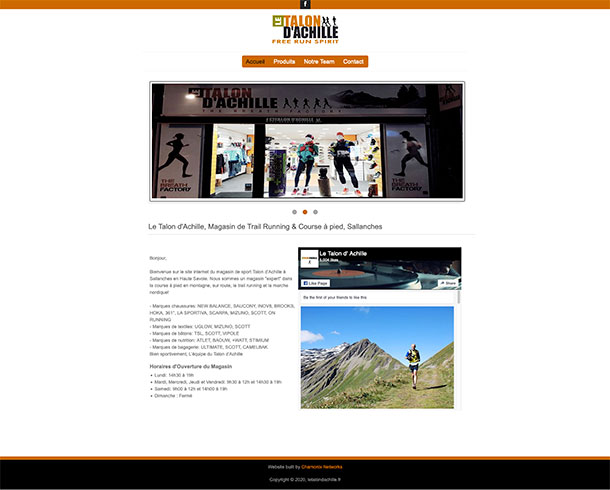 Project Description
Bienvenue sur le site internet du magasin de sport Talon d'Achille à Sallanches en Haute Savoie. Nous sommes un magasin "expert" dans la course à pied en montagne, sur route, le trail running et la marche nordique!
- Marques chaussures: NEW BALANCE, SAUCONY, INOV8, BROOKS,
HOKA, 361°, LA SPORTIVA, SCARPA, MIZUNO, SCOTT, ON RUNNING
- Marques de textiles: UGLOW, MIZUNO, SCOTT
- Marques de bâtons: TSL, SCOTT, VIPOLE
- Marques de nutrition: ATLET, BAOUW, +WATT, STIMIUM
- Marques de bagagerie: ULTIMATE, SCOTT, CAMELBAK
Bien sportivement, L'équipe du Talon d'Achille
CxNx Le Talon d'Achille
Publish on 02 August, 2014
Tags